South Yorkshire Times – Saturday 14 May 1949
Twenty Candidates
Who's Who in To-morrow's Urban Council Elections
Twenty candidates—seven at Conisbrough, four each at Wombwell and Darfield, three at Dearne and two at Wath—will go to the poll to-morrow (Saturday) in the local Urban Council elections. There are 11 contested seats. Labour will have 11 candidates and there are also three Independents, two Citizens and one each Progressive Labour, People's Candidate, Independent Ex-Serviceman and Communist.
Polling also takes place to-morrow in the Doncaster and Rotherham Rural Council elections and a number of parish council elections.
The Contestants
Here is a special "South Yorkshire Times" review of all the contesting candidates in the elections at Wombwell, Darfield, Conisbrough, Dearne and Wath
Conisbrough.
East Ward
Mr E Beeson (Ind.):
Native of Mexborough, but has lived in Conisbrough for 16 years. Now stores manager for Planet Trading Co Ltd, Doncaster. Enthusiastic sports supporter; during the war was secretary of many more Street Savings Group, which in three years saved approximately £5,000. During one Special Week the group contributed £905.
Was a wartime member of Conisbrough Savings Committee
Mr Thomas Hill jun. (Lab.)
Native of Conisbrough. Son of former Cadeby miner's president, Mr Tom Hill, himself a one-time member of Conisbrough Council. A bricklayer by trade and a member of the Ivanhoe working men's club. First time he has stood as a council candidate.
D Hollins (People's Party)
Left Labour Party some months ago in protest against house letting policy. Elected to Council in 1946 by one-vote majority. Member of Conisbrough Savings Committee. Steelworker, and chairman of Kilnhurst branch of British Iron Steel and Kindred Trades Association, who have unanimously endorsed his candidature and expressed opinion that he is "upholding the National Labour Party policy."
South Ward (1)
Coun. David Sheldon (Lab.):
First Conisbrough councillor to obtain 1.000 votes in Council elections: did so in this ward in 1946. Councillor nearly 20 years. Housing Committee chairman and former Finance Committee chairman. Vice-chairman Mexborough Secondary School Governors and former Labour leader of Mexborough Divisional Education Executive.
Mrs. M. E. SHERLOCK (Ind.).
Born in Conisbrough, and has resided there all her life . Has performed considerable social work. Associated in church and chapel activities, G.F S., Scouts and Cubs. and is now active worker for Conisbrough Over Sixties Club, Accompanist for Conisbrough Evening Institute Choir.
West Ward (1)
Coun. H. Gomersall (Lab.)
Second " father " of the Council more than 21 years' service. .Finance Committee chairman, and for many years chairman of Conisbrough Primary School Managers and former District Sub-Commit-tee. First chairman of Mexborough Divisional Education Executive. Unopposed at last election.
Mr. Patrick Mcdonald (Ind. Ex-Ser.):
Veteran of 1914-18 War. joined Army in 1915, and served overseas. Now an insurance agent and active member of Mexborough branch of the Liverpool Victoria Workers' Union. Third attempt at Council honours. Native and resident of Denaby.
Dearne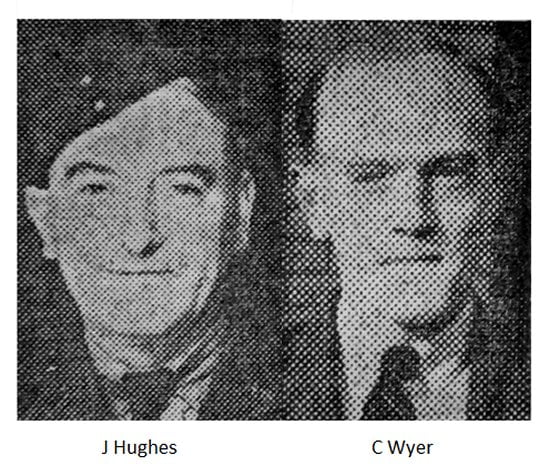 West Ward (2)
Councillor J Hughes (Lab)
Schoolmaster. Served in both 1914-18 and 1939-45 wars. Last year's president of Dearne District Labour Party. Vice-chairman of the Urban Council Finance committee and a former member of Mexborough Divisional Education Executive.
Councillor H. S. Hartley (Lab.)
Stores attendant at Hickleton Main colliery. First elected to Dearne Urban Council in 1946. A council representing on Dearne Community Association, member of Mexborough divisional education executive and Dearne Primary School managers. Former Wath Grammar School governor.
Mr Cyril Wyer (Communist)
Only Communist candidate in this part of South Yorkshire. Foundation member of Thurnscoe Communist Party branch, and member of the parties Yorkshire District committee. Occupied third place in five candidates in this ward last year.
Wath
Wharncliffe (1)
Mr W.P.Hackford (Prog. Lab.)
Contested this ward two years ago, but was not successful, has worked at Manvers Main Colliery for many years and given valuable service as a member of the former Montagu Hospital Board of Management. Member of Wath Co-operative Guild.
Councillor Mrs E Hardwick (Lab.)
Was returned unopposed in this ward in November 1947, in succession to Mr W Rawlinson. Mrs Hardwick his the third woman member of the Council since Wath obtained Urban Council status. During the war she was an ARP warden and also worked for the Red Cross.
Darfield
Three Seats
Coun. A Collindridge (Lab.):
Has served 15 consecutive years on Darfield Council, and on each occasion but the first has topped the poll. Housing occupies much of his thoughts. Other interests include Youth Council work and Land Settlement and recently he was appointed to Darfield Co-operative Guild Committee. Secretary of Dearne Valley Divisional Labour Party and Agent for the Postmaster General (Mr W. Paling).
Mr. Edgar Hirst (Lab.):
Son of the late Mr George Harry Hirst, M.P. Seeks municipal honours for the first time. A schoolteacher, and playing member of Darfield Cricket I Club. He is a WEA student. Served in the Navy in the World War and rose to the rank of Lieutenant.
Conn. J. Schofield (Lab.) :
Joined Labour movement 20 years ago. Elected to Darfield Council three years ago at his first attempt. Secretary of the individual section of Darfield Labour Party. A railwayman, he was chairman of NUR branch. He is Council's representative on Dearne Valley Water Board. Coun.
Mrs. Audrey Spencer (Ind.):
Was first returned two years ago at her first attempt. She is a governor of Foulstone Modern School, is interested in education in all its phases and is member of the Road Safety Committee.
Darfield 's first woman councillor.
Wombwell