South Yorkshire Times, May 29th
Cricket Summary
Bob Hydes had an hat trick for Mexborough, but even so that did not prevent Darfield winning by two wickets at Hampden road. 415 runs were scored at Hemsworth where Hemsworth, topping Denaby and Cadeby 195 with a couple of wickets to spare. gained their eighth victory off the reel.
Big Swinton Win.
Swinton 154 for 3 Frickley 150
Big hitting by H Parkin (picture), and T Smelt, scoring more than a run a minute, enabled Swinton to win their home Yorkshire Council match against Frickley easily on Saturday. Reply to Frickley's 150, Swinton passed this total to win handsomely by seven wickets, scoring 154 runs.
Frickley encountered strong opposition from W.Ward, Swinton fast bowler, who succeeded in taking six for 38 and if he had had help from the Swinton fielders, Frickley would not have scored their 150. Lucky in this respect was W.Hardwick, who scored 42 before being caught behind the wicket by E. Parkin. Hardwick gave several chances and was actually dropped in the outfield when completing his 50.
Swinton lost their first wicket at 34, but L. Smelt, and H. Parkin merrily hit the loose Frickley bowling. Smelt hit two terrific sixes over the Pavilion stand and these two had a partnership of 98 before Smelt was clean bowled, leaving at 134 for 1. He also had five fours in his total of 47. Parkin was out shortly after this, but the victory was in Swinton's grasp. Parkin played a faultless innings until he was caught in the slips, and batted an hour and a half for his 81, which included 11 fours.
Hyde's hat-trick.
Mexborough 118 Darfield 120 for 8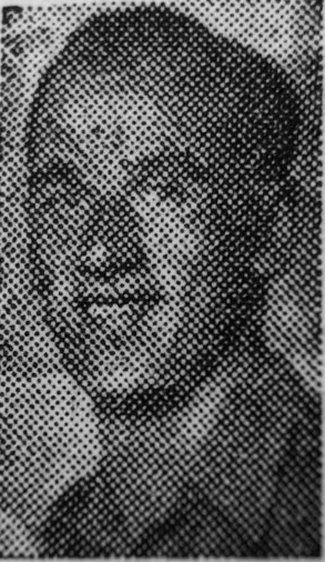 Mexborough's gallant South Riding League side found Darfield just too strong for them at Hampden Road. They hit up 118 against the bowling of W. Townsend (five for 29) H.Vickers scored a valuable 47, and although Bob Hydes (picture) obtained a hat-trick in his six for 33, he was unable to prevent Darfield beating Mexborough score with two wickets in hand. Final score was 120 for 8. J Rutledge (36) and A Green (43) were top scorers
Ellis's 85.
Wath 218 for 8 Brodsworth 229 for 6
The Wath – Brodsworth Yorkshire Council fixture at Wath resulted in a draw after five hours play. Brodsworth declared at 229 for six. Whieldon batted well for his 60 runs. Wath managed 218 for 8. Ellis batted brilliantly to get 85. Perry, Brodsworth bowler, took 4 wickets in 7 overs for 50 runs. MacDonald, another Brodsworth bowler, got three wickets in 17 overs for 54 runs
Eighth victory.
Hemsworth's 206 for 8 Denaby & Cadeby 205
Denaby and Cadeby provided Hemsworth with their eighth consecutive victory in a free scoring Yorkshire Council match at Fitzwilliam. Denaby made a bad start losing J Munden with only two runs on the board, but F Roberts (18) and K. Bacon (43) put on 30 for the next wicket.
The following batsmen also defied the bowling, I.Cutts (54), who hit two sixes and five fours in his 54, B Robinson (40), G Shephard (14) and J Bullard (20) helping Denaby to knock 205, the highest score made against Hemsworth, the season. He his took four for 31 and F Hibbert three for 36.
Hemsworth had their anxious moments despite good work by of R Caton (27), D Barrick (44) and R Bellfield (58). Their eighth wicket fell when they were still 11 behind the Denaby total, but C Barraclough (18) and Cliff Pawson (1) knocked the runs off. For Denaby K Bacon took three for 38
Elsecar 187 for 7 Thorncliffe 187 for 7
Before the commencement of Elsecar's Yorkshire Council game with Thorncliffe the players stood in front of the pavilion in a two minutes silent tribute to the memory of Earl Fitzwilliam, the Elsecar club patron
Ewart Kay hit a cracking 71 not out to no avail as Elsecar's 187 for 7 was passed by Thorncliffe with 4 wickets lost.