Mexborough and Swinton Times March 29, 1929
Darfield
Notable Independent Victory: Labour Minority of One.
Elected: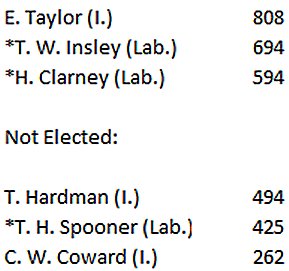 1926 Result:
T.H. Spooner (Lab.), unopposed. One Independent gain.
This "needle" election, as expected, aroused keener interest than usual, and there was a heavy poll. Labour, defending all the three seats vacant, were beaten for one of them, and Mr. Taylor returned to the Council with a record number of votes to give the Independents a majority of one over Labour.
Mr. Taylor thus avenged his own surprise defeat of a year ago after nine years' service as chairman of the Finance Committee. Labour had the assistance of several prominent people during the campaign, including Lady Mabel Smith, Mr. G. H. Hirst, M.P., and Mr. Herbert Smith, and the electorate was stirred to more than usual interest in the elections. The most successful of the unelected candidates was Mr. Hardman, who polled well enough to make another serious opponent for Labour in future elections.