South Yorkshire Times, April 14th 1939.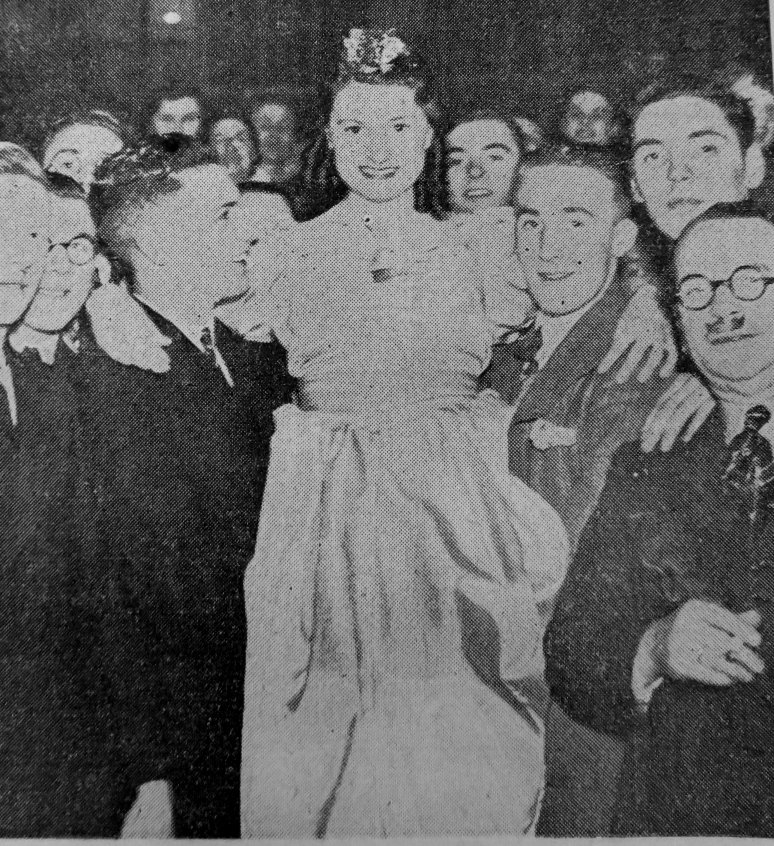 That the choice of Darfield's second hospital Queen was a popular one was indicated by the loud applause which followed the announcement that Miss Leila Huddert, 16 year old daughter of Mr and Mrs Joe Huddert, Of West Street, Darfield, had been selected to fill the position, the decision was made by two male and two female principles from the company of the revue "going gay," from a balance of theatre, at the Hospital Carnival dance held in Snape Hill Council School on Monday night.
All over the district interest in the affair had spread, and a crowd of nearly 700 Thronged the whole when the judging took place. Some two dozen girls took part in the parade.
Almost up to the moment of parading leila had empathetically declared that she would not compete. Her father, who was a miner at Houghton Colliery, told me he went to work on the night shift, but had he even fought his daughter would compete he would have been at the dance. He said he had previously offered her 10 shillings if she would ever enter the competition. But she refused. Her mother was at the dance, however, and finally persuaded her daughter to enter with the happiest result that she was chosen "Queen"
Leilas dance dress, which was made by her mother, was a very charming count of muave taffeta, having 7 yards of material in the skirt, it suited her dark hair and eyes to perfection, and she wore her hair in Victorian style in lung ringlets, and had a posy of violence in her curls. She is vivacious, has a smart appearance, and is a good dancer.
The four runners-up, who will act throughout the year as a soprano to the Queen, and Miss Doris Blaxland, of Snape Hill, Miss Jean Lancaster (who acted as a governor last year), also of Snape Hill, Miss Ivy Furniss, of Illsley Road, and Miss Nelly Blount, of Darfield Bridge. The new "Queen" is employed by the Wombwell furnishing company. She will be crowned at the Whitesuntide Hospital Carnival.
The present "Queen," Miss Betty Marley, was present in her hospital regalia, and she made a little speech of welcome to her successor, wishing her luck and a happy term of office. She then shook hands with her.
Since the announcement Leila has been besieged by photograph is to have taken her picture in the garden, staining the pudding, and in many other charming poses.