Mexborough and Swinton Times January 20, 1939
Former School Street Pupil to Appear in Jessie Matthews Show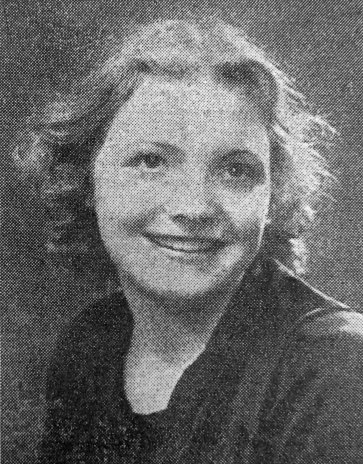 Once upon a time there attended the Ellis School at Brampton a little girl with a big ambition. That ambition was to be a professional dancer. Leaving school at a time when she had made such headway in her academic studies that she might easily have succeeded in almost any career open to women, she went to take training in a dancing academy in London.
Next week that girl will appear in Miss Jessie Matthew's new show, "I Can Take It" at the Empire Theatre, Sheffield.
The girl is Isabel Hague, daughter of Mrs Hague, 65, Knollbeck Lane, Wombwell, and the late Mr. Hague, at one e a foreman on the coke-oven plant at Houghton Main Colliery.
Mrs. Hague keeps a grocery shop in Knollbeck Lane, and between serving customers she told a "Times" reporter something of her daughter's career. She is an only child and naturally her mother is very proud of the success she achieved.
Isabel — or "Betty" as she is often called — was born in Darfield and attended the little Church school in School Street. Even at that time she had "music" in her feet, and used to talk about being a dancer when she grew up.
For six years Mr. and Mrs. Hague kept a boarding house at Blackpool, and when Isabel's father died her mother returned to Brampton to take over a business. Isabel attended Brampton school, and when she was old enough eave, her mother sent her to a dancing academy in London. Isabel was a promising pupil, but she liked dancing better than ordinary schooling.
It was soon revealed that she had the necessary aptitude for the career she had chosen and when she was only 15 her first job came with Cora Goff in in "Babes in the Wood" pantomime in Dublin.
Since  that time she has never been without work.
She next had about six months Leslie Henson's touring show, "Nice Goings On," and then joined another musical show, "The Gay Divorce," as a member of the chorus. With this show her first big chance came with an opportunity of playing '"Barbara," a part which she successfully carried for a period of about three months on tour.
Miss Hague has also done a good deal of cabaret work in London. For six weeks she was at the Piccadilly Hotel, and for twelve months before joining the show in which she will appear at Sheffield, she danced at the Paradise Club.
She has also worked in several films for Stanley Lupino and Max Miller. She has a small part in Max Miller's new film, "Everything Happens To Me." Mrs. Hague has seen her daughter on the screen on several occasions.
Miss Hague is 20, and married. Her husband is Australian born, Tom Devine, a professional dancer, whom she first met in "Nice Goings On" when she was only fifteen. She was only eighteen at the time of her marriage at Caxton Hall.
Although Miss Hague has experienced the full glare of stage life she has never forgotten her old home or the playmates of her childhood. Often when visiting Brampton she calls in at the school to have a chat with the staff and pupils, and there is no more welcome visitor.