Mexborough and Swinton Times January 27, 1940
Nine Hurt In Road Smash
Two Buses Involved
Head-On Collision at Darfield "Bottleneck"
Road Blocked For Hours
A View of The Damaged Buses.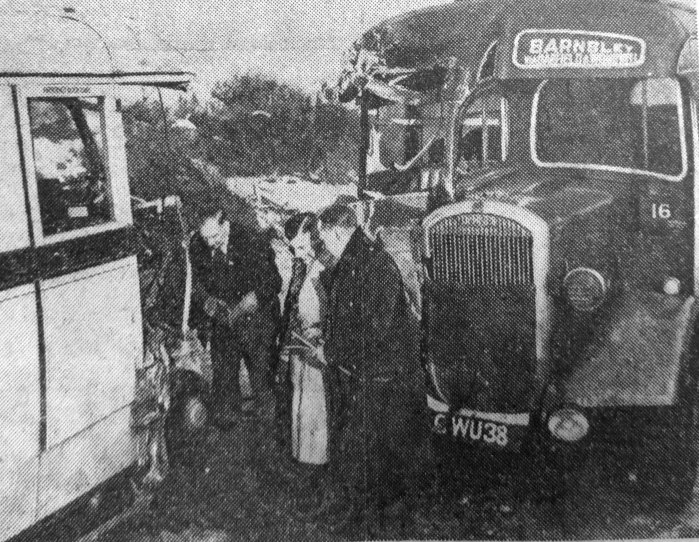 The Pontetract to Rotherham main road at Darfield was blocked for several hours on Tuesday morning when two passenger buses collided head on and became interlocked. Nine persons were injured in the smash and others suffered from shock. All the injured were treated on the spot by Dr. L. Taylor, of Wombwell, and two were taken to hospital at Barnsley, to be discharge later in the day.
The injured were the two drivers, Amos Camplejohn (42), of 61, Stoneyford Road, Wombwell (lacerated nose and injured leg) and Albert Jepson, 60, Tunwell Avenue, Ecclesfield, Sheffield (lacerated forehead); and the following passengers:
James William Tindall (37), joiner, 6, Halifax Road, Brighouse (lacerated chin, suspected fracture of jaw); Fred Swithenbank (68), joiner, 9 Brunswick Terrace, Thurnscoe (facial injuries); John T. Jepson (26), motor driver, 58, Chapel Street, Thurnscoe (facial injuries); Edgar Hank (32) clerk, 44, Cobcar Avenue, Elsecar (lacerated forehead); Edith Noble (22) school teacher, Wentworth Road, Jump (lacerated forehead); William Noble (23), 4, Normandale Road, Thurnscoe (teeth broken, mouth cut, shock); Campbell Morgan Hibbert (19), 81, Pleasan Avenue, Great Houghton (jaw and mouth injured, shock).
The two last mentioned walked home and were attended by Dr. McColm, of Thurnscoe.
The collision occurred at a slight bend between the end of Fitzwilliam Road, Darfield, and Darfield cross-roads on the Doncaster to Barnsley main road. The carriageway at this point run between high embankments and is only eighteen feet wide. Visibility was extremely poor at the time.
Cut By Flying Glass
One of the vehicles was an L.N.E.R. bus operated by the Sheffield Transport Company. of Division Street, Sheffield, and was travelling on service between Sheffield and Upton; the other belonged to Messrs. Camplejohn Bros., of Darfield, and was running between Thurnscoe and Darfield In the Sheffield bus there were only a few passengers; the other vehicle was fairly full. The passengers were thrown violently toward the front of the buses but on account of the windows being frosted over it was impossible for them to see what was happening.
The cabs of both vehicles were smashed in and most of the injured were cut by splintered glass. The drivers had lucky escapes from more serious injury.
Though several were bleeding profusely from cuts, the passengers were able to walk up the road to Camplejohn's garage where they were attended by Dr. L. Taylor, of Wombwell. Later Dr. J. W. Whitworth, of Darfield, arrived on the scene. Amos Camplejohn who appeared to have been crushed by the steering wheel of his bus, and James William Tindall, were sent to hospital to Barnsley for X-ray examination. Later they were discharged.
A curious coincidence is that there were persons named Noble and Jepson on each of the buses.
The vehicles were so firmly interlocked that it was impossible to separate them and from 8-30 a.m. to 1 p.m. the police under Sergeant Grantham, who were promptly on the scene rendering what assistance they could, had to divert traffic via Fitzwilliam Road. Not until 3-30 p.m. were the buses removed from the site.
This section of highway has been the scene of many serious accidents.