Mexborough and Swinton Times July 13, 1918
Darfield Sailor's Funeral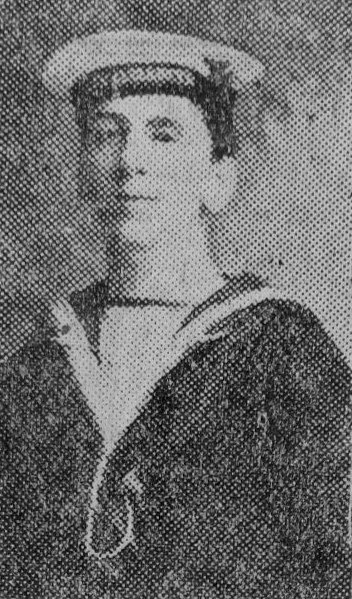 At All Saints, Darfield, on Friday, First-Class Stoker Horace Venables, aged 25, eldest son of Mr. and Mrs. Abednego Yenables, of School street, who died last week at Haslan Hospital after an operation, was buried with military honours.
He enlisted in the Navy some six years ago. He has had many exciting experiences, and was a survivor from a British Battleship lost early in the war. He afterwards served on the QUM Elizabeth and too part in the memorable bombardment At the Dardenelles.
There were impressive scenes at the funeral. A firing and bearer party came down from Pontefract, and buglerS sounded the last post.
The Rev. A. E. Sorby conducted the service.
The principal mourners were Mr. and Mrs.  Venables (parents), Mr, William. Venables, Mr. , Arthur Venables (brothers), Miss Venables (sister), Mr. and Mrs. Thorp (West Melton), Mrs. V. Thorpe, Mr. Jas. Thorpe, Mr. Win. Thorpe, Mr. Horace Thorpe, Mr. Albert Thorpe, Mrs. Mitchell (Bolton), Mr. Denman (Wombwell), Mr and Mrs, James Venables (Wath), Mr. and Mrs Wm. Morris, Mrs. Taylor, Mrs. Roystone, Mr. Thompson, Mr. and. Mrs. Copeland, Mr. J. White, Mr. and Mrs. J. Townend, Mr. and Mrs. T. Marshall Miss Marshall, Mr. and Mrs. J. Carr, Mr and Mrs. Lay-son.
The Village Club and the . Wesleyan Chapel were represented. There were a great many wreaths.
From C.W.G.C.:
Stoker 1st Class
VENABLES, HORACE
Service Number SS/113403
Died 01/07/1918
Aged 25
H.M.S. "Queen Elizabeth."
Royal Navy
Son of Abednego and Esther Venables, of 12, Manny Marr, Darfield.
DARFIELD (ALL SAINTS) CHURCHYARD Extension. 639.