Mexborough & Swinton Times – Saturday 25 November 1939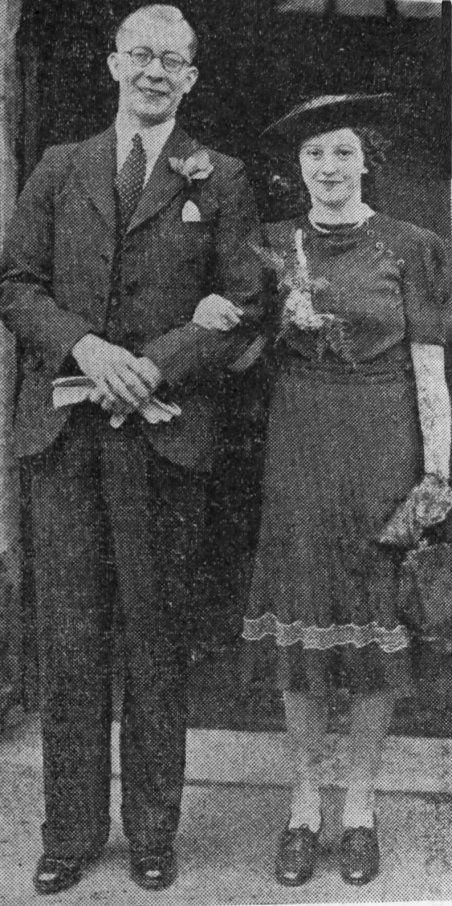 The Darfield bell-ringers rang a peal from the Parish Church tower on Saturday, when the marriage took place of one of their company, Mr. Fred Pearson Roebuck, eldest son of Mr. and Mrs. Pearson Roebuck, of 45, West Street, Darfield.
Mr. Roebuck, who is on the clerical staff at Houghton Main Colliery, is treasurer of the Parish Church Bible Class, secretary of the Church Institute, and a member of the Parochial Church Council.
His bride was Miss Kathleen O'Keefe, only daughter of Mrs. Holmes and the late Mr. William O'Keefe, of 6, South Street, Darfield. She was employed on the domestic staff at Darfield Rectory.
The service, conducted by the Rector, was choral and the congregation joined in singing the hymns "Praise my Soul" and "0 Father all creating," with Mr. G. Strickland at the organ.
Given away by her uncle, Mr. E. O'Keefe, the bride wore a navy silk crepe de Chine dress, the hem of the flared skirt being embroidered in white. She wore a navy Breton sailor hat, and matching shoes and bag, and had a shoulder spray of pink carnations. She was attended by Miss Frances Kendall and Miss Millie Rounds, who wore lupin blue dresses, navy toques with eye veil, navy accessories and had shoulder sprays of pink roses.
Mr. Norman Roebuck, who is in the Air Force, was best man, Mr. B. Roebuck groomsman, and Messrs. W. Cox, H. Royston and E. Omerod ushers. A reception was held at the Methodist Schoolroom. Among the gifts was a Westminster chimes clock from the Rector and Mrs. Drown.